Energetic and Exergetic Evaluation of Biomass Fired Water Heating System
Abstract
This paper deals with thermal and exergy efficiencies of biomass fired water heating system. Water heating system is extensively suitable to generate hot water in rural areas. The developed water heating system was tested with Desi babul (Acacia nilotica) wood. Thermal and exergy efficiencies of the system were estimated at 54.5 percent and 6.79 percent, respectively.
Citation: Panwar, N. L., and Paul, A. S. (2017). Energetic and Exergetic Evaluation of Biomass Fired Water Heating System. Trends in Renewable Energy, 3, 153-159. DOI: 10.17737/tre.2017.3.2.0043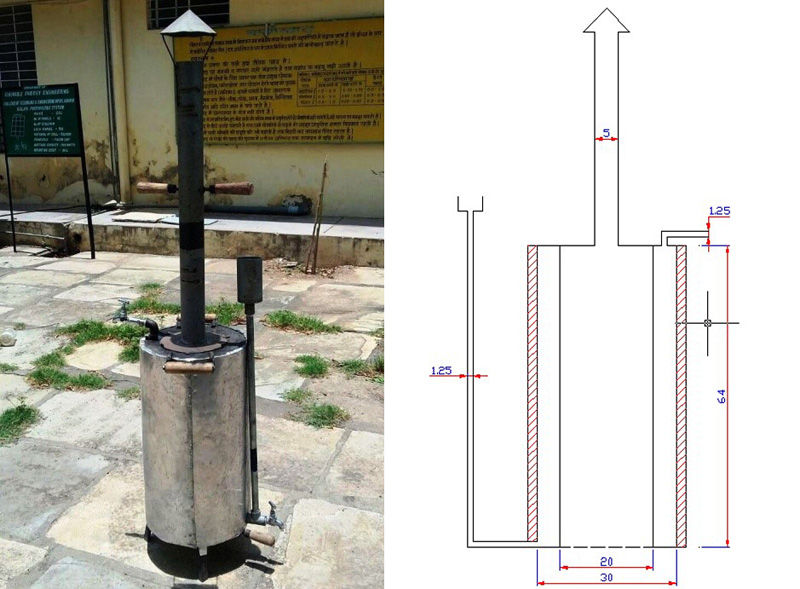 Keywords
Biomass water heater; Exergy efficiency; Thermal efficiency; Rural applications
References
Panwar, N.L. and Rathore, N.S., 2008. Design and performance evaluation of a 5 kW producer gas stove. Biomass and Bioenergy, 32(12), 1345–1352. DOI:10.1016/j.biombioe.2008.04.007
Panwar, N.L., 2010. Performance evaluation of developed domestic cook stove with Jatropha shell., Waste Biomass Valor., (1), 309–314. DOI:10.1007/s12649-010-9040-8
Panwar, N.L., Kaushik, S.C. and Kothari, S., 2011. Role of renewable energy sources in environmental protection: a review. Renewable and Sustainable Energy Reviews, 15, 1513–1524. DOI:10.1016/j.rser.2010.11.037
Xu, R., Ferrante, L., Briens, C. and Berruti, F., 2009. Flash pyrolysis of grape residues into biofuel in a bubbling fluid bed. J. Anal. Appl. Pyrol., 86(1), 58–65. DOI:10.1016/j.jaap.2009.04.005
Kobayashi, N. and Fan, L-S., 2011. Biomass direct chemical looping process: a perspective. Biomass and Bioenergy., 35(3), 1252–1262. DOI:10.1016/j.biombioe.2010.12.019
Saidur, R., BoroumandJazi, G., Mekhilef, S. and Mohammed, H.A., 2012. A review on exergy analysis of biomass based fuels. Renew Sustain Energy Rev., 16(2), 1217–1222. DOI:10.1016/j.rser.2011.07.076
Tyagi, S.K., Pandey, A.K., Sahu, S., Bajala, V. and Rajput, J.P.S., 2013. Experimental study and performance evaluation of various cook stove models based on energy and exergy analysis. J. Therm. Anal. Calorim., 111(3), 1791–1799. DOI:10.1007/s10973-012-2348-9
Panwar, N.L., 2014. Energetic and exergetic performance evaluation of improved biomass cookstoves. Int. J. Exergy. 14(4), 430–440. DOI:10.1504/IJEX.2014.062910
ASTM (1983) Annual Book of ASTM Standard, American Society for Testing and Materials 19103, Philadelphia.
Panwar, N. L., Kothari,, S., and Kaushik, S.C., 2013. Energetic and exergetic analysis of three different solar cookers. J. Renewable Sustainable Energy., 5(023102). DOI: 10.1063/1.4793784
Bilgen, S., Kaygusuz, K. and Sari, A., 2004. Second law analysis of various types of coal and woody biomass in Turkey. Energy Sources, 26(11), 1083–1094. DOI:10.1080/00908310490494621
Kalinci, Y., Hepbasli, A. and Dincer, I., 2011. Exergetic performance assessment of gasification and pyrolysis processes of pre-treated wood board wastes. Int. J. Exergy., 8(1), 99–112. DOI:10.1504/IJEX.2011.037217
Finet, C., 1987. Heating value of municipal solid waste. Waste Management and Research, 5(1), 141–145. DOI:10.1016/0734-242X(87)90047-4
Szargut, J. and Styrylska, T., 1964. Approximate evaluation of the exergy of fuels. Brennstoff Wärme Kraft, 16, 589–596.
DOI:
http://dx.doi.org/10.17737/tre.2017.3.2.0043
Refbacks
There are currently no refbacks.
Copyright (c) 2017 N. L. Panwar and Arjun Sanjay Paul
This work is licensed under a
Creative Commons Attribution 4.0 International License
.
This work is licensed under a 
Creative Commons Attribution 4.0 License
.
Copyright @2014-2019 Trends in Renewable Energy (
ISSN: 2376-2136, online ISSN: 2376-2144
)